Interdisciplinary Ceramics Research Center
---
The Interdisciplinary Ceramic Research Center (ICRC) is a new laboratory for individuals and teams across disciplines to experiment with traditional and cutting-edge approaches to the manipulation of clay. In recent years we have seen renewed interest in the potential of ceramics among architects, designers, engineers and artists outside of the traditional ceramic arts. The Center provides interested parties with the opportunity to explore their research with access to specialized equipment in a collaborative work environment. 
The ICRC is grounded in the notion that unstructured exchange of ideas can lead to groundbreaking research and creative work. This is best facilitated by offering a flexible workspace; MIT Building 20 or Bell Labs are examples of such shared institutional spaces paving the way for historic discovery and progress. The ICRC is positioned to do for the arts what these examples have done for science and engineering.
Both undergraduate and graduate students have the opportunity to work with and alongside KU professors, technicians, visiting artists, and visiting scholars. The Chamney kilns, an industrial mold press, a CNC router, and a large-scale ceramic 3D printer already establish the ICRC as a leading facility in the United States. Serving as an intersection of ceramic-related research, teaching, and learning, the ICRC places Lawrence and the University of Kansas at the heart of a forward-looking movement in ceramic art.
ICRC
ICRC
2303 Bob Billings Pkwy
Lawrence , Kansas 66045
Josh Goering - Local Clay Discovery and its Application in the Ceramic Arts
Senior ceramic student Josh Goering discusses his projects through the ICRC.
ICRC Terracotta Façade Installation
KU Architecture students in residence at the ICRC designed and installed terracotta cladding on the ICRC warehouse. Titled "Tectonic," the installation visualizes patterns of clay formation at two scales – (1) microscopic crystalline patterns and (2) tectonic-scale cross sections that were blended to visually express the function of the otherwise unmarked warehouse. The digital-analog hybrid workflow exposed students to a variety of fabrication techniques, including computational modeling, CNC milling and tile pressing. The project was completed with support from LaunchKU donors, NBK Terracotta, Fastenal, Bracker's Good Earth Clays, and the KU Architecture and Ceramic Departments.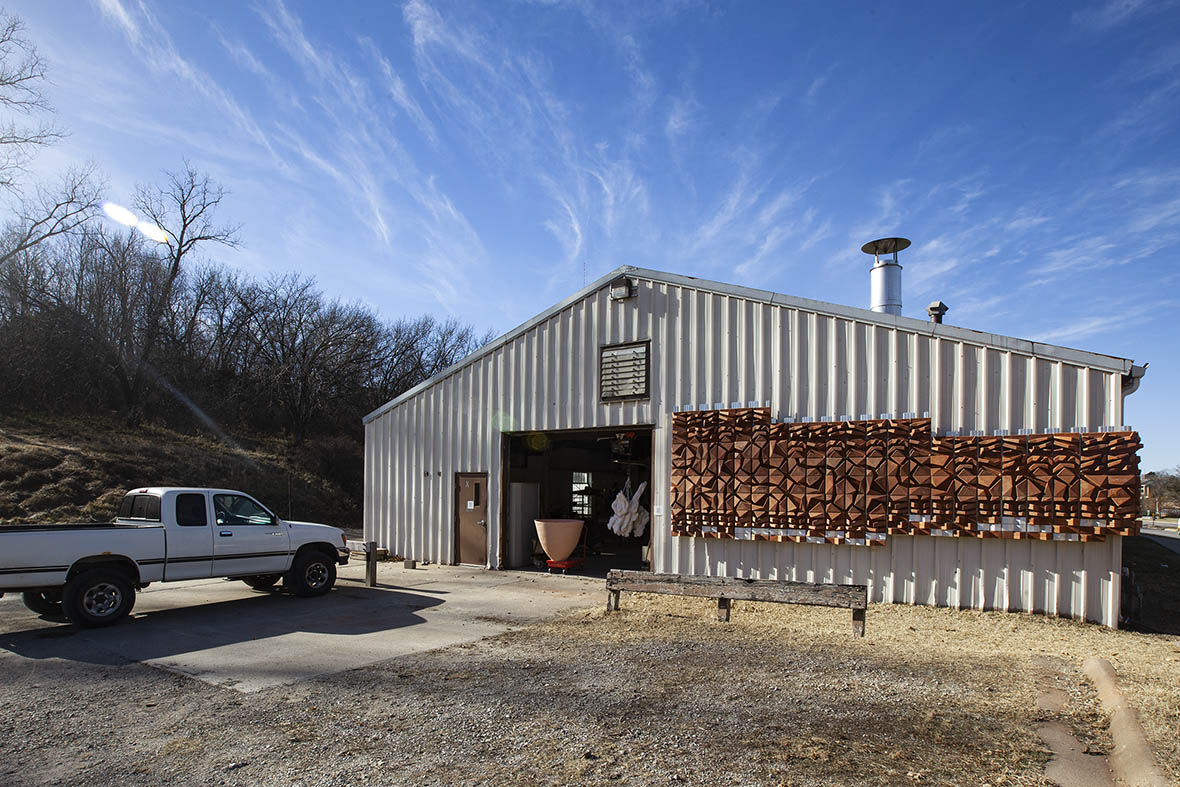 Reptilian Pavilion at the Kansas Children's Discovery Center
The Kansas Children's Discovery Center (KCDC) in Topeka serves nearly 100,000 visitors each year. Scheduled to be completed fall of 2021, the "Reptilian Pavilion" is a biomimetic shade structure to serve the outdoor playscape at KCDC. Reptile scales and camouflage patterns were image sampled to generate a shading pattern across several hundred ram pressed terracotta tiles. KU Architecture students worked with ICRC research faculty and staff to design the terracotta tiles and develop a Ram Press mold using a digital model to fabricate the complex form. The project is sponsored by Capitol Federal Savings Bank, McClure Engineering, KBS Constructors, AZZ Galvanizing and KU Architecture and Ceramics Departments.