Yoonmi Nam
---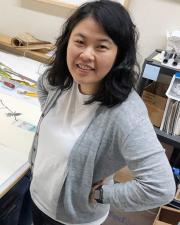 Contact Info
Chalmers Hall, room #212A

---
Biography
—
Yoonmi Nam is an artist born in Seoul, South Korea, and has studied in Korea, Canada, US, and Japan. Yoonmi is interested in the observation and depiction of everyday objects and occurrences, especially when they subtly suggest contradictions - a perception of time that feels both temporary and lasting and a sense of place that feels both familiar and foreign. Growing up as an only child with working parents, she often engaged in quiet observations of things around her. Experiences of living in disparate cultures with different people and their histories allowed her to notice what often is unobserved in one's own familiar spaces. She works in traditional printmaking processes such as mokuhanga (Japanese-style water-based woodblock printing) and lithography to make imagery as well as explore other materials such as clay, glass, and paper to make three-dimensional still lifes.
Yoonmi received her MFA degree from the Rhode Island School of Design and BFA degree from Hong-Ik University in Seoul, Korea. She was awarded residencies at Mokuhanga Innovation Laboratory in Japan three times (2004, 2012, 2019) to study traditional Japanese woodblock printing techniques and is the recipient of the Keiko Kadota Award for Advancement of Mokuhanga. She has participated in artist residencies at Brandywine Workshop and Archives in Philadelphia, Frans Masereel Centrum in Belgium, Kala Art Institute in California, Vermont Studio Center, and a 3-year studio residency at Studios Inc. in Kansas City. Her work is in the collections of the RISD Museum, RI; Spencer Museum of Art, KS; and the Hawai'i State Art Museum, HI; among others, and has shown her work in over 20 solo exhibitions and 180 group exhibitions both nationally and internationally.
Yoonmi Nam regularly teaches Lithography, Mokuhanga (Japanese woodblock printmaking), Fundamentals of Printmaking, Senior Seminar, Professional Activities Seminar, and Drawing at the University of Kansas, where she has been a faculty member since 2001. She also co-directs a summer study abroad program "Visual Art in Japan."
Education
—
MFA in Painting/Printmaking, Rhode Island School of Design (Honors), 2000, Providence, RI
BFA in Printmaking, Hong-Ik University, 1997, Seoul, Korea
Research
—
There is an ever-present, yet always changing still life of a sort that occurs on my kitchen table. The set-ups are brief and temporary – the top of the table becomes a site for staging a take-out dinner, grocery bags, and the daily mail. Quickly, these objects exit the stage and are discarded. However, these disposable objects can also suggest a different sense of time. Immediately after their intended use, they become useless and disposable. But, as materials, they often last longer than their intended lifespans. In my sculptural works, I use these familiar disposable objects as subject matter and explore their materiality, ephemerality, and their persistence.
I am drawn to man-made spaces and objects that we surround ourselves with, especially when they subtly suggest a contradicting sense of time that seems both temporary and lasting. In the arranged flower imagery, the flowers, once cut from their roots, have only a short remaining time to live. They will quickly wither and die, but before they do, they are elegantly and elaborately arranged, as if time will stand still for them. The containers that hold them are disposable objects, such as a yogurt cup, a Styrofoam take out box, and an instant noodle bowl. These objects, although meant to be discarded immediately after use, often last longer than their intended lifespans.
The images of the structures in my drawings are inspired from my everyday environment. They are either in the process of being torn down, built up, or simply in some kind of a state of change. It may be due to time, neglect, development, or forces of nature.
I am interested in beauty, irony, impermanence, and the common and extraordinary way we structure our surroundings.
Research interests:
Printmaking
Lithography
Japanese Woodblock Printmaking (Mokuhanga)
Drawing
Art
Contemporary Art
Teaching
—
Teaching interests:
Printmaking
Lithography
Japanese Woodblock Printmaking (Mokuhanga)
Drawing
Art
Contemporary Art