Shawn Bitters
---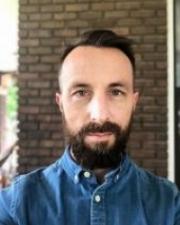 Undergraduate Director
Associate Professor
Contact Info
Chalmers Hall, room #212B

---
Biography
—
Originally from Orem, Utah, Shawn Bitters received his MFA from the Rhode Island School of Design in 2005. He is an associate professor in The University of Kansas Visual Art Department. Solo shows include Allegra LaViola Gallery, New York, Swarm Gallery, Oakland, Open Spaces KC, Kansas City and The Hall of Awa Handmade Japanese Paper and Museum in Japan. He has also shown at, Planthouse Gallery, The International Print Center of New York and Dieu Donné Papermill in New York, Icebox Gallery in Philadelphia, The Michener Museum of Art, in Doylestown, Pennsylvania, the Hunterdon Art Museum, Clinton, New Jersey, The Kemper at the Crossroads, The Kemper Museum of Contemporary Art, Kansas City, and the Visual Art Center at the University of Texas, Austin. He has been an artist-in-residence at Officina Stamperia Del Notaio, Tusa Sicily, Atlantic Center for the Arts, New Smyrna, Florida, Frans Masereel Centrum in Kasterlee, Belgium, The Hall of Awa Handmade Japanese Paper and Museum in Japan, and the Danish Council of Artists Residency on Hirsholm Island, Denmark. He was one of three recipients of a 2016 Charlotte Street Foundation Visual Artist Award, Kansas City, Missouri.
Education
—
MFA, Rhode Island School of Design
Creative Works
—
Artist-In-Residence Officina Stamperia Del Notaio. Artist in Residence, Officina Stamperia Del Notaio Printmaking Residence Program. Attending as a part of my successful Fall 2017 Sabbatical Proposal. Tusa, Sicily. 8/24/2017 - 10/1/2017. Creative Field Research in Tusa, Sicily. I have been accepted to Officina Stamperia Del Notaio, a printmaking residency program in Tusa, Sicily. Printmaking residencies are rare and most are located in cities such as San Francisco or Venice, Italy. My creative research is built off of natural environments. This residency is perfect for my research needs. It has printmaking facilities and is located in a small, hilltop town (population about 3,000) just above the coast and is surrounded by volcanic environments. Most importantly to my current work, it is within a few hours of two active volcanoes, Stromboli, and Mount Etna.
In my creative practice, I construct printed-paper drawings, sculptures, and installations based on geological phenomena. These formations and events are composed of various sets of 26 distinct stones, one stone for each letter of the English alphabet. Using print-media I print thousands of these stones in various scales and colors, use and re-use them to encode personalized landscapes with my own language, order, and narrative. My motivation is to address the basic human urge to create narratives and anthropomorphize nature in order to fix our place in the world.
My most recent alphabet is derived from volcanic bombs. Volcanic bombs are aerodynamically shaped rocks. They are formed when magma is forcefully ejected from a volcano and then solidifies in midair. I have started a new series of prints and drawings that feature clusters of these stones erupting up or falling down from the sky with vapor trails (contrails) stretching out behind them. This phenomenon was recently seen in the 2010 eruption of Eyjafjallajokull in Iceland and is a frequent occurrence at Stromboli and Mount Etna.
My creative practice is interdisciplinary, involving hybrid approaches to printing, drawing and sculpture. These processes blend into each seamlessly but start with drawing from nature. It is a method of researching and synthesizing observed natural forms. It can happen easily out in nature with the simplest of tools. Via printmaking, the drawings of natural forms are translated into graphic forms that can be printed repeatedly in prints, drawings and sculpture. A residency at Tusa provides direct contact with a natural environment directly related to my work and the equipment and space to develop my observations.
The aim of this residency is to start to create diverse, complex landscapes with multiple narratives with a variety of invented languages. My current work features a single alphabet and a narrative of one, brief phrase. With additional alphabets sourced from a volcanic environment, I can create conversations within the landscape. Time to explore the natural environments around Tusa for forms from which to create new languages is the perfect opportunity to start this new work. I will spend time on the seashore, walking and hiking through the hills, and taking longer expeditions to nearby Mount Etna and Stromboli. The prospect of being so close to Mount Etna and Stromboli is immensely exciting as I will have a chance to safely explore the natural ecosystem and geology of two active volcanoes. I have researched and found local professionals for guided tours on the volcanoes. I will draw natural forms such as stones, moving water, and vegetation within this environment where volcanic bombs are found, staying open to whatever natural forms I may encounter. These new works will mimic the mix of ecological and geological systems and will be rife with invented, anthropomorphic narrativesArtist in Residence, Atlantic Center for the Arts
New Smyrna, FL. 5/1/2017 - 6/30/2017. Atlantic Center for the Arts is a nonprofit interdisciplinary artists' community and arts education facility dedicated to promoting artistic excellence by providing talented midcareer artists an opportunity to work and collaborate with some of the world's most distinguished contemporary artists in the fields of music composition, and the visual, literary, and performing arts. Community interaction is coordinated through on-site and outreach presentations, workshops and exhibitions.
I was accepted to attend with 7 other artists to come and work with Rashawn Griffin. While there I worked on a new series of landscape drawing/paintings that suggested unnatural, systematized, geological systems. The artists chosen by the residency program and Griffin were chosen due to the interconnected nature of their creative practices. The connections were through media and or the conceptual concerns of their work. The thoughtful curation of artists lead to an atmosphere of camaraderie and support, where we felt free to take risks on new work and ideas
Exhibitions
—
Four by Four. Springfield Art Museum. Springfield. MO. 65807. 2018Pattern Languages. Greenlease Gallery, Rockhurst University. Kansas City. MO. 64110. 2017Polaris: Northern Explorations in Contemporary Art. Michener Museum of Art. Doylestown. PA. United States. 2017Victory Garden. Planthouse Gallery. New York. NY. United States. 2016 - 2017Charlotte Street Visual Art Award Winner's Exhibition. Kemper at the Crossroads, Kemper Museum of Contemporary Art. Kansas City. Missouri. 64108. 2016Secret Society of the Black Diamond. Wonder Fair and Free State Festival. Lawrence. Kansas. 2015. 2015Said Yellowstone to Taum Sauk. Missouri Bank Artboards. Kansas City. MO. 64108. 2015Due North/Snow. C. R. Ettinger Studio. Philadelphia. PA. 19146. 2015
Awards & Honors
—
Charlotte Street Foundation Visual Art Award Winner 2016
The Charlotte Street Foundation
2015 - 2016