Rik Dishinger
---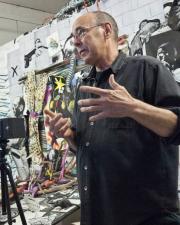 Professor of Painting, Emeritus
Biography
—
Rik Dishinger was born and raised in the Midwest. He was educated as a painter and studied with individuals associated with the West Coast Figurative School. After receiving his MFA from the University of New Mexico in 1968, he returned to KU, where he got his BFA in drawing and painting in 1965, and joined the faculty of the KU Department of Art, where he is currently an associate professor. Over time his creative interests have shifted to printmaking and the use of print methodology in large-scale mixed media work on paper.
Rik's work is represented in the permanent collections of the Nelson-Atkins Museum of Art, the Joslyn Museum and the Mulvane Art Museum. He exhibits regularly throughout the Midwest.
Rik's interests extend beyond the traditional studio, and he has embraced a variety of related activities over the years. He is a master fiddle-maker, a mean windsurfer and a mad scientist in the print studio. He is currently obsessed with developing alternative photography methodology, as well as using large format photography in conjunction with printmaking.