Michael Leo McCaffrey
---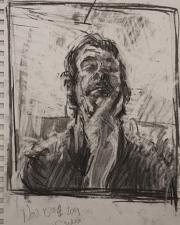 Visiting Assistant Professor
Biography
—
For the past several years, Michael McCaffrey has been creating paintings and drawings of his 78-year old father, and his home in Lawrence, Kansas. In his painting process, Michael oscillates between recording accurate visual information and invented abstract forms. Through this process, a woven tapestry that captures a deeper, holistic view of his subject emerges.
Michael received a B.F.A. from the University of Kansas in 2006 before receiving an M.F.A. in painting from Indiana University. In the winter of 2016, Michael was awarded a two week residency at the Kimmel Harding Nelson Center for the Arts. Michael exhibits both regionally and nationally. Recently, at Prince Street Gallery and First Street Gallery in New York, NY, Manifest Gallery in Cincinnati, OH, K Space Contemporary in Corpus Christi, TX and the University of Southern Mississippi in Hattiesburg, MS. In 2016, Michael's work was published in Manifest Gallery's International Painting Annual 5, and in 2015 he received an international grant from the Elizabeth Greenshields foundation. From 2014-2017, Michael functioned as the Artist-in-Residence in Hashinger Hall at the University of Kansas. Currently, he is a Visiting Assistant Professor in the Department of Visual Art at the University of Kansas where he teaches, Painting, Drawing and Life Drawing.
Things I enjoy: Painting, Drawing, Fishing, Gardening (aka digging holes), My chickens, Kayaking, Running, Reading, Video Games, Teaching, Cooking, Science Fiction, Psychology, Philosophy.
Education
—
MFA in Painting, Indiana University
Teaching
—
Pedagogy
My philosophy of teaching is that artistic advancement requires excitement and innovation of thought. A continued engagement with the larger creative world through historical and contemporary investigation stirs the pot of creativity, while the accumulation of practice creates skill and confidence. My values are evident in the manner in which I instruct, which places importance on students discovering and continually testing their technical and analytical boundaries. I place great importance on concept development and investigation into different materials and processes. I teach focus and intention while guiding students to be individual, honest and sincere in their creative searching, in my teaching I provoke an atmosphere of curiosity. Sustaining an exciting artistic environment in which students can make discoveries is a goal. I desire for students to take these lessons of inventive problem solving and curious looking and apply them beyond artistic endeavors to inspire their daily lives, whatever they may be, in order to enrich the way they interact with the world and to embolden their futures.
Methodology
Technically sound observation and design skills
I believe these skills pave the way for more advanced study and prepare students for future endeavors. A formal understanding of constructing pictorial space and the nature and relationships of color give students a strong foundation upon which to build. I explain to my students that learning to make art is like building a house; you have to start with the foundation. By designing projects that continually test student's ability to represent their world, I cultivate an environment of sensitivity to the incredibly subtle visual information that surrounds us all. I impress upon students the importance of looking. Looking is an action, a question; it is an act of inquisitive investigation into what the world shows us. Looking shows interest. In the classroom, I lead by example and supply energy and enthusiasm for course concepts and materials. I ask students to bring their own interest and inspiration because I believe these skills will greatly improve their lives in general and prepare them for more advanced study in the arts.
Personal vision is a continuously shifting concept
Students of the Arts today mirror this as new information is streamed at us constantly and we watch as technologies advance and shift on an unremitting basis. As an educator, it is my responsibility to help students understand how to manage this influx of information. Vigorous exposure to contemporary artists in the form of presentations and field trips is crucial. Contemporary artists of today use multiple technologies, techniques, materials, and sources to inform their concepts and processes. It is important that students learn this adaptive skill. Exercises are developed that poke and prod, challenging students to find non-traditional processes and materials to assist them as they navigate around problems. Sourcing disparate visual information by keeping a visual diary is a method I frequently use to expose students to new ideas. If they see something, anything, that is visually interesting they are instructed to put it in this diary. The visual diary requires them to keep track of and makes them aware of the patterns and continuities in the way they see and process their surroundings. It forces them to develop a dialogue with the world and it helps them to create their own personnel visual language.
Environment and Criticism
Trust between student and instructor promotes an atmosphere conducive to learning. To this effect, I make every overture to know my students as individuals. On the first day of class, I ask students to make a simple crayon drawing based on their summer or winter vacations. This exercise allows a dialogue to begin between myself and each student, as well as to enforce the idea that though we may take our Art seriously; art begins as an act of inquisitive and expressive play. Setting the stage in this manner creates an atmosphere of positivity and inspiration, which in turn, evokes an educational environment where excitement and explosive growth can occur. Criticism is imperative to each student's development as well and takes the form of one on one, small group and large group discussions. At the beginning of each critique, I ask students to please explain as clearly and descriptively as possible what they see, before the artist can speak about the work. This informs the student of where a disconnect may be occurring between their painting or drawing and their audience.
As much as any art class is about creativity and individual expression, students are also learning their own studio habits. I like to refer to this as the art of slowing down. Most students come to class with little to no idea about studio time. Often students take a craft approach to projects, thinking of them as being assignments that need to be finished as soon as possible. Here are the directions, here are examples, now make something similar. What I hope that they understand, eventually, is that studio time is slow time. I want them to learn the value of moving slowly in a culture of fast. In beginning-level courses putting a great deal of importance on technical skills and craft forces students to slow down and fully focus on their actions. For more advanced students spending more time writing about, and verbalizing or discussing their ideas as they make their work is crucial. I challenge them to strike a balance in their work between opening doors and closing them. Hopefully, they begin to understand that making Art is an inquiry, and a practice, not a finish.