Gerald Lubensky
---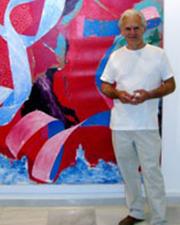 Biography
—
Gerald Lubensky received his BFA in 1967 from the Rhode Island School of Design and his MA in 1969 from the University of New Mexico.
He has shown his work in various one-person exhibitions in a variety of venues all over the country, including the Andre Zarre Gallery in New York; the Foster Goldstrom Gallery, Dallas; and the Ana Sklar Gallery in Miami.
His pieces are also part of many public collections, notably the Museum of Fine Arts, Denver, American Airlines, Dallas; and Rathean Corporation in Lima, Peru.