David Brackett
---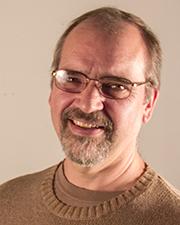 Contact Info
Chalmers Hall, room #519C

---
Biography
—
David Brackett got his M.F.A. in textiles, with Honors, in 1990 from the University of Kansas. He attended the University of Michigan from 1979 to 1985, where he studied weaving and fabric design, and art history. Brackett has a Bachelor of Science in Zoology from the University of Michigan.
Before joining KU in 2002, Brackett was an Assistant Professor at the Clarion University of Pennsylvania. He also taught at the University of North Texas, Skidmore College, N.Y., and the Kansas City Art Institute, Mo.
He has shown his work at various exhibitions, including the Lancaster Museum of Art, Lancaster, Pennsylvania; the Yeiser Art Center, Paducah, Kentucky; the Rice Gallery at the Albany Institute of Art History, Albany, New York; the Society of Arts and Crafts, Boston, Massachusetts; and Kyoto City Museum, Kyoto, Japan.
Education
—
MFA in Textiles, University of Kansas
Teaching
—
Teaching interests:
Textiles
Fibers
art
screen-printing
weaving
fiberart
shibori
Exhibitions
—
Octagonal: The All Media Exhibition. Octagon Center for the Arts. Ames. IO. USA. 2019Salina Biennial: Contemporary Art from the Mountain-Plains Region. Salina Art Center. Salina. KS. 2018Material. D'Art Center. Norfolk. VA. 2018Wichita National All Media Exhibition. Mark Arts, Formerly the Wichita Center for the Arts. Wichita. Kansas. 2017Fold/Unfold. Lyndon House Arts Center. Athens. Georgis. USA. 2017Regents Office Building. Topeka. KS. USA. 2016 - 2017Material Connection: New Work by Members of the MFAEN (Midwest Fiber Arts Educators Network). Kent State University Downtown Gallery. Kent. OH. USA. 2016New Fibers 2016. University Gallery, Eastern Michigan University. Ypsilanti. MI. USA. 20162016 VisionMakers. 108 Contemporary. Tulsa. OK. USA. 2016Michael Nicholson, David Brackett, Meghan Sullivan. James May Gallery. Algoma. Wisconsin. 201648th Clay, Fiber, Paper, Glass, Metal, Wood. Octagon Center for the Arts. Ames. IA. USA. 2016Pushing the Surface. Johnson-Humrickhouse Museum. Coshocton. Ohio. USA. 2015National Fiber Directions. Wichita Center for the Arts. Wichita. KS. USA. 201547th Clay Fiber Paper Glass Metal Wood. Octagon Center for the Arts. Ames. IA. USA. 2015Still Memories. Dairy Center for the Arts. Boulder. CO. USA. 2014Fantastic Fibers. Yeiser Art Center. Paducah. KY. USA. 201446th National Exhibition Clay, Fiber, Paper, Glass, Metal, Wood. Octagon Center for the Arts. Ames. IA. USA. 20146th Annual Exhibition. Sylvia White Gallery. Ventura. CA. USA. 2013National Fiber Directions. Wichita Center for the Arts. Wichita. KS. USA. 201345th National Exhibition Clay, Fiber, Paper, Glass, Metal, Wood. Octagon Center for the Arts. Ames. IA. USA. 2013Crafts National. Mulvane Art Museum. Topeka. KS. USA. 2012Fiber Focus. Art St. Louis. St. Louis. MO. USA. 2011Fantastic Fibers. Yeiser Art Center. Paducah. KY. 2011Fibremen. Scythia Textile Art. Kherson. Ukraine. 2011Quilt National. The Dairy Barn, Athens, OH
The Foundry Art Centre, St. Charles, MO
Ohio, Riffe Gallery, Columbus, OH
Quilter' Heritage Celebration, Lancaster, PA
The National Quilt Museum, Paducah, KY. 2009 - 2011Surface and Form. Mulvane Art Museum. Topeka. KS. 2011